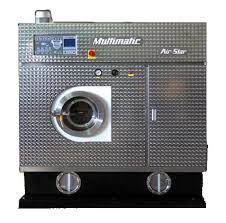 At Jay Dee Cleaners we actually dry clean your clothes, not like other cleaners in town that "wet" clean (wash in water).
We have three, 65 pound, state of the art, computer operated, dry-cleaning machine. We use excellent dry-cleaning detergents and inject sizing into every load. Our solvent is crystal clear and we distill the solvent after every load to make sure it is clear and ready for the next load. We weight each load to make sure your garments are cleaned and given the utmost, and proper care. We control the drying cycle with computer sensors. We spot and go over every single item we clean. WE DRY CLEAN YOUR CLOTHES.
We are all trained in the "Art of Dry Cleaning". I myself Dave Sabo, am a graduate of the International Institute of Dry Cleaning. (1975) Better yet my father, Geza Sabo, 89 years old and still comes in from time to time graduated in 1946 from the same school I went to. I have learned a huge amount from my father.
We both have served on the Board of the Ohio Cleaners Association. We have belonged to many national and international cost group. You can ask your current cleaner " Do you know Sabo", they most likely we say "Yes". We have been around and involved with the dry cleaning industry and the community for decades
The Sabo family has been providing the Cleveland area with excellent Dry Cleaning Service. The Sabo's have built a solid reputation as Cleveland's most trusted dry cleaners. The Sabo's are committed to providing quality service to the community. They believe that a reputation as an honest and reliable business is the recipe for success. While others seek to profit by cutting corners, or recommending unnecessary services to customers, the Sabo's believe that a good reputation and consistent service will reap bigger profits in the long run. By being trustworthy, the Sabo's believe that they will enjoy a long term profitable business that serves the community.
Dave's three sons, John, Luke, and Paul, have come on board to continue to offer great service and continue the family business
So if you clothes are coming back from your current cleaners with a harsh feel, kind of tight, or linings hanging down. They just don't seem right. May you should try Jay Dee Cleaners before your clothes are ruined
Feel free to look at our Google reviews
https://www.google.com/search?q=jay+dee+cleaners&oq=jay+&aqs=chrome.0.69i59j69i60l3j0j69i65.1183j0j9&sourceid=chrome&es_sm=0&ie=UTF-8#lrd=0x8830ffe886d9b1d7:0x432d46d9b8eb4ab7,1
or Yelp
http://www.yelp.com/biz/jay-dee-cleaners-euclid