Every day is filled with decisions of whether we make purchases out of necessity or out of "treating ourselves" to something nice. Maybe you feel that dry cleaning services fall into the category of an indulgence. But in many instances, this can be far from the truth.
Most clients choose JAY DEE Cleaner's dry cleaning services out of necessity.
Advantages
Topping the list of advantages is the sheer convenience of utilizing our services. To have soiled laundry picked up, cleaned, starched, folded, ironed, and delivered back to you in a like-new condition is an invaluable time-saver. The best part – all services are available for free pickup and delivery.
Dry cleaning clothing is less abrasive than traditional washing and drying at home. Just think of all those delicate items that were ruined by your washer! Dry cleaning is a necessity for the times you are unclear about how to clean fabrics or when looking for less wear and tear during the cleaning process. Our services extend the life of your garments.
We are the experts of stain and odor removal. Complex procedures and special stain removal techniques are used to remove stains and prevent new stains from showing up in the future.
Through various dry cleaning and wet cleaning techniques, we'll help return clothes to a like-new condition by taking actions to prevent color fading, shrinkage, and changes to clothing texture or finish. However, it doesn't end there. We'll also check for missing, cracked, or broken buttons and replace them for free.
Another plus? We are a full-service company. Do your pants need to be taken in (congratulations on losing that weight) or hemmed? Are alterations needed to your wedding or prom dress? If so, you'll be happy with the work performed by our group of alteration experts!
Our services focus on reducing customer stress. Leave it up to us to properly preserve family heirlooms, such as a wedding or christening gown.
Services also cover cleaning of household items. Don't try to tackle oversized items on your own – it's guaranteed to be frustrating and messy. Feel confident in knowing that our team of professionals will take care of your area rugs, drapes, comforters, slipcovers, blankets, and decorative pillows. Most times – if you can dirty it, we can clean it.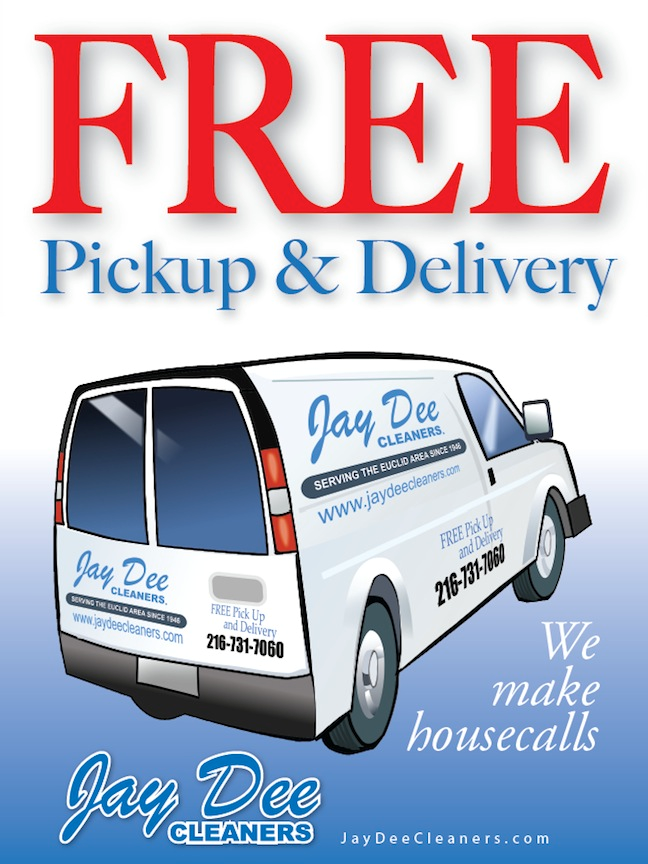 Convenience
Instead of having to wash, dry, iron, and fold clothes, simply put them out for us to pick up and we'll drop them back off with no delivery charge. Our dry cleaning delivery service is a terrific time-saving benefit for you and your family!
For questions, please call at 216-731-7060.
Additional Services
State-of-the-art shirt laundering and pressing
Comforter and household item cleaning (including area rugs)
Wedding and prom dress cleaning and alterations
Leather, suede, and fur cleaning
Down pillow cleaning and restoration
Shoe repair and shining